Our Mobility investigates how travel behaviors and experiences vary because of factors like age, race, gender, income, or disability. It uses 2 free apps that are easy to use and make research fun. As a participant, you may learn about your mobility patterns and how travel affects your mood.
What's involved?
This study is about daily transportation experiences for all kinds of people. It's a travel diary that uses GPS to record the places you go and how you get there. A daily survey app documents what your trips are like and how you feel after taking them.
This project is in the pilot phase. Selected participants will be asked to complete these steps: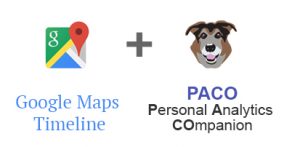 Install Google Maps and PACO on your phone. Log in with your email address, enable location history, and join a survey in PACO.
Answer questions once a day or 3 times a day, and correct your location history in Google Maps for 1 week.
At the end of the week, download location files and upload them to this website. Fill out a brief online survey about using the mobile apps. *Update: for full study, participants will receive an email address.
Be part of a 30-minute conference call with other participants to give feedback about the study.
How long will it take?
Steps 1-3 should take anywhere from 30 min – 1 hr to complete over the course of 7 days. The 30 min conference call will be scheduled after participants complete a week of travel diaries and location sharing.
What does my Google Maps Timeline show?
It will create a timeline of your travel, showing which modes of transportation you use and which places you visit. This information is private, and only viewable by you. If you are selected and agree to take part in the study, you will be asked to download this data and share it with the researchers. These files contain the email address used for login.
Do I have to use Gmail?
Yes, both Google Maps and PACO require a Gmail account. You can use a personal Gmail account, or use an anonymous Gmail account created for you. *Update: for full study, participants will receive an anonymous email address.
What do I do with my location data?
If you are selected and agree to take part in the study, you will be asked to check and correct location history errors. After correcting errors, you would download files for each day, and upload them to this website (details here). If you want an anonymous account to be provided, the researchers will assist with downloading location history files. You can disable location tracking at any time. *Update: for full study, participants will not be required to complete this step.
What is PACO?
PACO is a self-analytic tool. After you install the app and log in, you'll receive an invitation for two experiments. The first will ask a set of questions three times a day, and the other will ask the same questions once a day for three time periods. You can try both and decide which one works better for your lifestyle. You can also change the schedule of the survey to fit your normal habits. For example, if you commute to work at the same time, you can schedule notifications after your trip to work or home.
What will you do with my data?
You will receive a report of your data for one week. This individual report will only be shared with you. All other location and survey data will be analyzed along with data of other participants. Publications or presentations of findings will not show personal information or individual visualizations.